Did you know that while nurses are often thought of in an assistive position, their job includes an entirely separate set of responsibilities from the physician that only they can perform?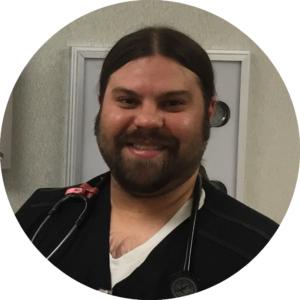 ​
In fact, nurses provide the majority of patient care and for National Nurses Week, we're going to celebrate some of the dedicated nurses at Concho Valley ER. Keep reading to learn more about one of our very own, Tim Coleman.
---
Q: What made you want to be a nurse?
A: I have always known that I wanted to work in the health field in some capacity. When I was going to college, I started working in a local emergency room as a tech/nurse aide. After working in the ER alongside some really great nurses, I realized how much I admired what they did and how much nurses are able to impact a patient's life. After I finished the degree that I had been going to school for, I decided to go back to school for nursing so that I, too, could help patients in that capacity. Working at Concho Valley ER allows me to help patients and personalize their care in ways that I never had time for in my previous ER experience.
Q: What does a typical day at the facility look like for you?
A: One of the things I love most about emergency nursing is that there really is no "typical" day. Every day brings new patients with different complaints, and we literally have no idea what may come through the door that day. As a nurse, I assess patients, start IVs, draw blood for lab work, give medications, and perform EKGs, among many other things. As an ER nurse, I need to be able to do everything from putting on a band-aid to adjusting the rates of critical medications.
Q: How does your job impact the patient's emergency care experience?
A: My job as a nurse has a huge impact on the patient's emergency care experience. Nurses are involved in the care of the patient from the moment they walk in until the time they are able to go home, so everything we do goes towards making the patient's experience a positive one! At Concho Valley ER, all of our nurses are required to have at least 3 years of emergency room nursing experience. This requirement ensures that our nurses are fully prepared and qualified to handle any situation that may arise in the ER.
We realize that nobody plans on having a medical emergency, but I think our patients appreciate that we deliver care with a handshake and a smile (and a toy for the kiddos). I know this question is asking about my job as a nurse, but we nurses could not do our jobs nearly as well without the awesome radiology techs, ER techs, and registration employees who work alongside us!
Q: What's it like working at a freestanding facility, and specifically, your facility?
A: After working for the past 10 years at an ER that is attached to a hospital, I am loving working at our freestanding facility, Concho Valley ER! Here in San Angelo, the idea of a freestanding ER is still something new and foreign.
Contrary to popular belief, we're not an urgent care clinic, but a fully functioning ER complete with on-site lab, pharmacy, and CT/X-ray machines! We can treat everything from strokes and heart attacks to broken bones and kidney stones. One great thing about working at Concho Valley ER is that we have no wait. If you feel bad enough to go to the ER, the last thing you want to do is wait in a lobby for hours until you are able to be seen.
Our patients are seen very quickly, and I love that our nurses are able to have lots of time to spend one-on-one focusing on the patients we are treating. In bigger facilities, the nurses are running from room to room trying to juggle multiple patients at the same time. I feel very blessed to be able to work at Concho Valley ER with the amazing team of employees that we have working here.
---
Concho Valley ER is your local emergency center, giving concierge-level emergency care to our community 24 hours a day, 365 days a year. Our state-of-the-art facility is equipped with the most advanced technology possible, including CT Scanner, ultrasound, and X-Ray, for your care. To learn more about our services, visit this page.
Have you visited our facility? If so, let us know how it went!
Nutex Health, Inc supports you and your family's health. You can depend on Concho Valley Emergency Center or any one of our concierge-level, freestanding emergency facilities to deliver the emergency care you deserve, 24 hours a day, 365 days a year.