Concho Valley ER proudly serves the San Angelo community with exceptional medical care, but it's not just the nurses and physicians who make this possible. Our team is comprised of some of the most dedicated and experienced lab technicians in the area, ensuring you're diagnosed and treated faster than a traditional emergency room.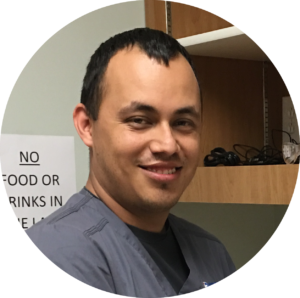 Today, we're going to hear from one of our very own lab technicians, Abel Garcia, for Medical Lab Professionals Week. Keep reading to learn more about how Abel is involved in the emergency care process.

​
Q: What made you want to become a medical lab professional?
A: I've always found lab work to be an interesting department to work in because you get to deal with different kinds of specimens and make sure that the different tests are done correctly and timely. Working at Concho Valley ER allows me to perform these tests more efficiently, which makes my job even more enjoyable, knowing that I'm helping a patient get better, faster.
Q: What's a typical day like for you at Concho Valley ER?
A: My day typically begins with checking the temperature in the lab fridge and freezer, running the daily quality controls on the equipment, and making sure the equipment and lab are clean and organized. After I ensure the lab is ready, I can start my day seeing patients.
Q: How do you impact a patient's emergency care experience?
A: The role of a lab professional fits into the patient's intake, diagnosis, and treatment by making sure the labs are done correctly and in a timely matter so that the physician can be able to diagnose and treat a patient, especially when it is an emergency. We make sure the physicians have the most accurate information about the patient's condition.
Q: What's it like working at a freestanding facility, like Concho Valley ER?
A: Working in a freestanding facility like Concho Valley ER is different because you actually get to work in a more stable environment and interact one-on-one with the patient to make sure they are receiving the best help possible. It's usually a stress-free environment, which allows you to help treat patients and get them in and out quicker than your traditional emergency room. At traditional emergency rooms, patients may be waiting in a lobby for hours before they're seen. Our highly efficient team ensures no patient is left waiting in a medical crisis and lab technicians are a crucial part of that.
---
Concho Valley ER provides fast, compassionate, and convenient emergency care in an upscale, concierge-level facility 24 hours a day, 365 days a year. Our team uses the most advanced equipment available, including Ultrasound, X-Ray, and CT scanner, to ensure you're seen, treated, and sent home quickly and efficiently.
Want to learn more about our services? Visit this page to see our full range of services at our emergency facility.
Nutex Health, Inc supports you and your family's health. You can depend on Concho Valley Emergency Center or any one of our concierge-level, freestanding emergency facilities to deliver the emergency care you deserve, 24 hours a day, 365 days a year.